Many of you know me as a writing teacher, but I am also a mother of three children. My youngest child, Gregory Lazich, recently died on May 14, 2019, after a four-year struggle with cancer. He was just seventeen.
Below are my two different obituaries for him. This is the hardest thing to write as a mother. If you did not know him, I hope these words will give you a glimpse of what he was like and what his family and friends have lost.
Obituary #1
Gregory Tsay Lazich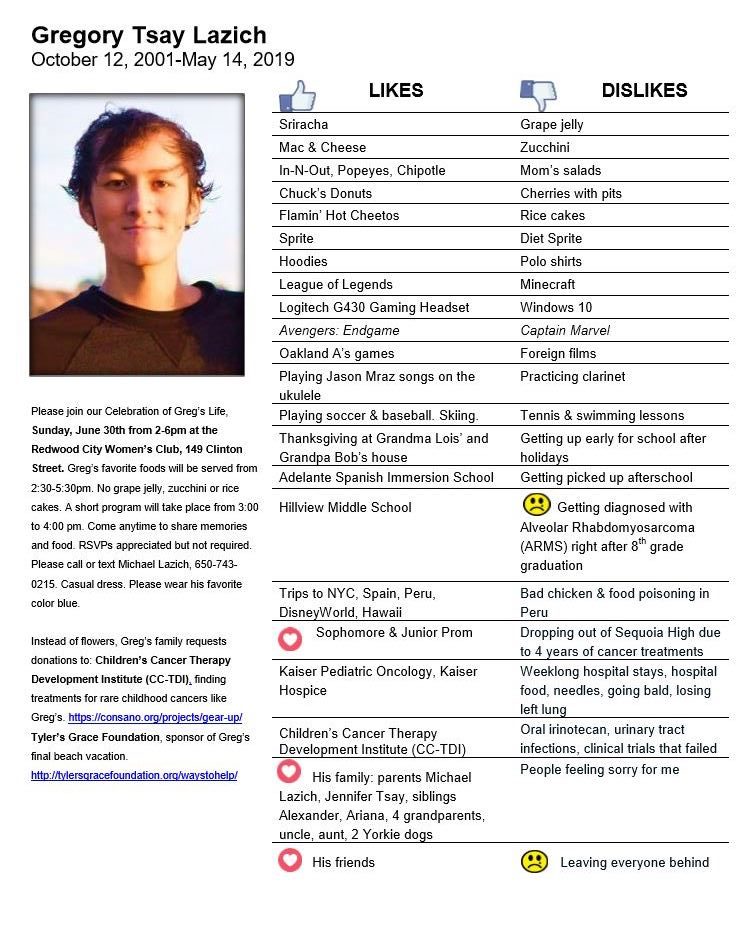 Obituary #2
Gregory Tsay Lazich
October 12, 2001-May 14, 2089
Mr. Gregory Tsay Lazich of Menlo Park, California passed away May 14, 2089 at the ripe old age of 87 after a long and happy life filled with family and friends.
Gregory was born to parents Michael Lazich and Jennifer Tsay on October 12, 2001 in Palo Alto, CA. The youngest of three children, he attended Adelante Spanish Immersion School, Hillview Middle School and Sequoia High School. In high school, he played clarinet in Jazz Band, was a member of the robotics team and played right field on JV and Varsity Baseball.
E-sports was Greg's true calling and by 2017 he was ranked in the top 100 of the North American League of Legends players. UC Irvine gave him an e-sports scholarship but after his freshman year, Greg stopped out and became a professional gamer.
In his twenties, he played on the North American Team Solo Mid and participated in the 2021 World Championships held in Seoul. He eventually fulfilled his lifelong dream when the top South Korean team SKT recruited him, nicknaming him "Young Faker."
In 2024, Greg returned to UC Irvine earning his degree in computer science. In 2028, he played on the first US Olympic e-sports team at the Los Angeles Summer Games. E-gaming allowed him to travel the world and he visited South Korea, China, Singapore, Malaysia and Spain.
Although repetitive stress injuries forced him to retire by the age of 30, Greg continued his love of e-gaming by working at Riot Games and later Tencent. He also co-founded Sriracha Games, later acquired by Amazon-Disney and was able to retire by age 45.
In 2030, Greg married Heidi Turner. They had three children and divorced amicably in 2050. In his sixties, he met the love of his life, Sheila Broflovski, at the bar mitzvah of his grand-nephew. Greg and Sheila got married and honeymooned on Artemis, the first lunar city. His family and friends attended services via the Tesla self-driving rocketship and spent two memorable weeks at the Elon Musk Dark Side of the Moon Suites.
Greg is survived by his widow Sheila, his daughters Aubrey (Tyler), Lesley (Daniel) and Kenny; his stepchildren, Dwight, Angela, and Jim; his sister Ariana; four grandchildren, his nephews Devin and Jason and his niece Aiyana.
He is preceded in death by his first wife, Heidi Turner, his parents, Michael and Jennifer and his brother, Alexander.
__________________________________________________________
That is the story Greg's family wishes could be told. But cancer stole away his story, both his present one and his future one.
In June 2015, Greg was diagnosed with Stage IV Alveolar Rhabdomyosarcoma (ARMS), a rare, aggressive, stem cell muscle cancer. He had just graduated from Hillview Middle School. The average lifespan of ARMS patients is 4 years from diagnosis and Greg survived 3 years and 11 months.
For 47 months, Greg stoically endured chemotherapy, radiation, relapses and surgeries. He also participated in clinical trials and one compassionate use of an experimental combination drug therapy. During his brief remissions, he was able to attend some of his sophomore and junior years of high school and travel to Disney World and Hawaii. He even managed to rank in the top 100 of the North American League of Legends players in 2017.
The family thanks the doctors and nurses at Kaiser Pediatric Oncology and Kaiser Hospice. We are also grateful for the researchers at CC-TDI who have dedicated their careers to finding treatments for rare childhood cancers like Greg's.
Please join our Celebration of Greg's Life, Sunday June 30th from 2-6pm at the Redwood City Women's Club, 149 Clinton Street. Greg's favorite foods will be served from 2:30-5:30pm. A short program will start at 3:00pm. Come anytime to share memories of Greg. RSVPs appreciated but not required. Casual dress. Please wear his favorite color blue.
Instead of flowers, Greg's family requests donations to: